How To Grow a Beard? – A Complete Guide
Sooner or later, a time comes in every man's life when he thinks of growing a beard and join the gang of men who flaunt their beard and moustache. Though achieving one of those beards which take people's heart away is not an easy task.
Here, we have come up with a detailed process of deciding, growing, and maintaining a fuller and healthy beard which can serve the purpose for you, if you are interested in growing a beard.
Just go through the detailed information provided below to grow a healthy beard in 6 simple steps.
1. GENETIC RELATIONSHIP
Just like any other part of our body, genetics influence facial hair too. The growth rate, thickness and the overall look of a beard are determined by the genetics which has traveled from your father or grandfather. So you need to work with what you have. Some men have a full beard in teens and some are unable to grow beards even in their late twenties. Only genes are to be blamed for such things.
On a positive note, your beard is unique to you and belongs to you only. Accept what you have and be proud of it. If your beard is not the way you want it you need to be at peace with the things and start nourishing it the way it is supposed to be.
2. FIND THE MAIN REASON TO GROW
Just like in life, a future goal must be present so in the case of a beard. You must be aware of the intention that urges you to grow a beard and the final result which you want to achieve. There are many reasons like it makes you look more handsome, masculine, authoritative, confident or it covers scars/any other facial imperfections. Maybe you are just fascinated by others and want to try a new look.
In short, you should know the final prize for which you are putting efforts and focus on the possible ways to achieve it.
3. FIRST WEEK OF SURVIVAL
Once you have decided to grow your beard you will definitely feel differently if have never grown it in the past. The first week will feel strange and weird as you feel a scruff on your face. It may feel itchy sometimes but you need to avoid it as itching can lead to infection. There are numerous ways of heal itching for e.g. you can choose great beard oil or conditioner to soothe it. Various options are available in the market. Washing also tends to lessen the itching. Use shampoo or conditioner that is specially made for beard. Pamper your beard with good quality products.
And being a new player in this race, you do not need to feel isolated as this itching may also come from a dry skin or a regular shave. A regularly followed shave can also develop itching as it simply cuts your hair and leaves the sharp edges inside your skin which when growing result in itching from time to time.
You simply need to cope up with this temporary phase. Test your willpower and resist itching.
Apart from such issues, many people will also comment and discourage you to grow facial hair. Just ignore them and focus on the beard. Some may even comment positively, consider those positive comments.
Studies have proved that women are attracted to the stubble that appears in the first ten days of growth. Purchase a good quality trimmer. But to grow the beard fully avoid trimming, once its grown women will get more attracted to you.
This is an awkward stage and this phase will not last long as obstacles are short-lived and will get better by time.
4. PATIENCE IS A MUST
We all must be familiar with the fact that great things take time to happen. Same is a case with your final beard shape.
If you have not given up to the temptation of shaving by now the beard begins to take its shape. The final shape of a full beard is achieved after four weeks of not shaving. Avoid trimming and shaving during the growth time.
After four weeks you achieve your milestone of sporting a full-fledged beard. After that, if you want to grow more it is up to you.
Now its time to shape your beard as per your preferences. To groom the beard and appear presentable you must use proper tools like good quality beard trimmer. It is a myth that if you shave a beard it comes thicker. It's no magic, it does take weeks and months to take a perfect volume/shape.
Growing beard is really testing your patience. The measurement of the beard is not in inches but months. You must set a target for growing beard like four weeks or six weeks, even a complete month you can consider. And, always stick to this timeline and never abandon the plan prior chosen one.
5. TIME FOR SERIOUS GROOMING
Now, when you have achieved your milestone of 4 or 6 weeks, you must notice the itch is subsided completely and the patches must be filled if any.
The time has come when you style your beard as per your expectations. Prior styling it you need to follow a few things to make your beard reach its full potential. And, here goes the list:
WASH IT
Once your beard is fully grown, you need to treat it in the same way as you do for hair on top of your head. It is said that beards act as natural filters or nature's napkins. Beards keep bacterias away from mouth and nose. These facial hair filters can trap dirt, lint etc. in them and keep you safe.
A daily routine of shampoo should be followed for the beard hair. Every time you wash it, make sure you dig deep down to the skin to rinse it thoroughly (helps to nourish the beard effectively)
CONDITION IT

When you are done with the washing it becomes necessary to keep your beard hydrated and in its fuller volume. A good quality conditioner will do the job for you. It will not only hydrate your beard but also relieves itchiness of the skin.
The next step is to apply beard balm that acts like a leave-in conditioner. Apart from this make it a daily routine to apply beard oil to tame your wild mane. Oil relieves itching, eliminates dandruff and smells good whole day long.
Just put few drops in your hand and rub it gently on the beard.
NOTE: Ensure the oil absorption by the skin too.
TRIMMING

After four weeks you can start trimming. A finishing touch is always needed to join a true beardsman gang. These fining touches can be done right using an electric shaver or razor. Before opting any you need to keep a check on the following points:

The shape of your face– You must understand your face cut and then shape the beard. For e.g., the jawline of round face is defined well by a square beard.

Neckline– The area of the bottom beard around the neck is called neckline and trimming must begin from here. A professional is best-suited for this trimming. If you want to do it personally, use a beard trimmer first to trim then use a razor or electric shaver to clear up the remaining stubble.

The neckline is basically the area where the neck meets the head.

Cheek Line- It is the upper limit of beard on your cheeks, avoid shaving or sculpting this part until or unless the beard hair are annoying your eyes.

A few other factors- As it is mentioned earlier in the article that growing a beard is a matter of intense patience, same as in the case of maintaining one. After some time of your beard growth, you will be able to tame and shape it in your desirous manner.

Avoid trimming too much on one day, leave some to other days.
6. TAKE CARE OF YOURSELF
Apart from all these outer gestures, you need to nourish your beard hair from inside as well. It can be achieved through the following: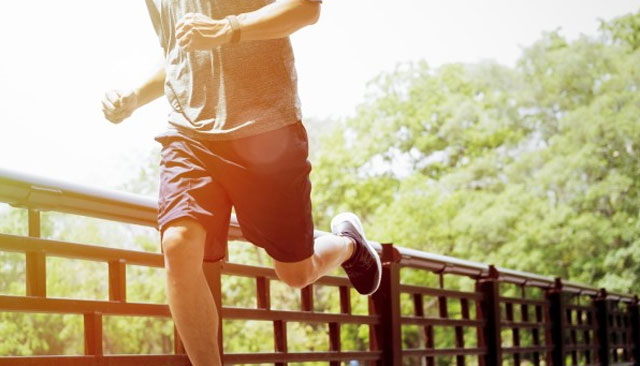 It adds to the beard growth by losing excess weight and increases testosterone that promotes facial hair.
It improves blood circulation and enhances growth as the blood carries vitamins & proteins to the hair follicles.

A protein-rich and healthy diet promotes testosterone which are the key factors to facial hair growth in men. You can include spinach, nuts, olives, broccoli, olive oil, or vitamin supplements such as biotin or multivitamin like zinc, vitamin B6, and magnesium in your diet.
A good nap is always associated with a good body and healthy mind. A complete 7 to 9 hours sleep promotes healthy growth of beard as well.
STRESS
In most cases, a stressful life can play a vital role in your urge to get a speedy beard growth. Stress generally affects the male hormones and constricts the blood vessels. This weakens the hair roots as they receive fewer nutrients. It is not easy to avoid stress in modern lifestyle but you can diminish its side effects by meditation and regular exercises.
After coming this far in the article, you must get an idea that growing and maintaining a healthy beard is not a rocket-science yet few dos and don'ts are obviously involved.
Additionally, there are a few good quality products available in the market which may be of your benefits. let's have a look.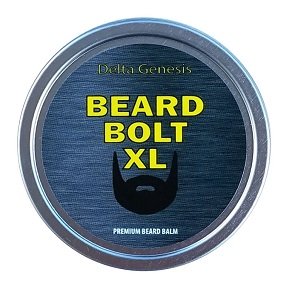 Specifically designed to keep your beard happy and healthy!
It is a premier #1 beard balm that acts as a premium leave-in conditioner. Beard bolt XL comes with the top essential oils which add on to maximum beard growth and volume. This unbeatable product can be used for styling and conditioning of your facial hair.
Its lightweight and a mess-free formula are also beneficial for moustaches too. You simply need to take out a small amount of this balm and rub it all over beard to enjoy this advanced formulation of this product.
Key Ingredients
– Shea butter, helps you to moisture the beard & keep it soft for long.
– Others include beeswax, hemp seed oil (stimulate hair growth), jojoba oil, and pumpkin seed oil.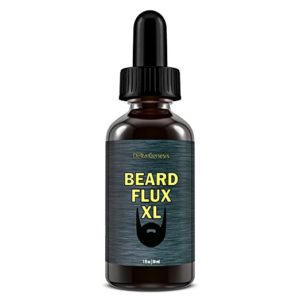 100% organic and pure formula to fuel and maintain a healthy growth!
Bear flux XL is a fast-acting #1 facial formula to promote and maximize the natural growth of your facial hair. This product is completely fragrance-free with one of a kind caffeine enhanced base.
This premier caffeine-infused beard growth stimulating facial hair oil is unique in its kind and serves a dual purpose of augmenting natural beard growth and keeping your beard looking its best at all times.
It is an easy to apply formula that leaves your facial skin/beard smooth without any scruffy or itchy feel.
Key Ingredients
– Top blend of Essential Oils (Jojoba, Amla, Argan, and other oils)
– No fillers, fragrances, GMOs or parabens
– Caffeine-Infused formula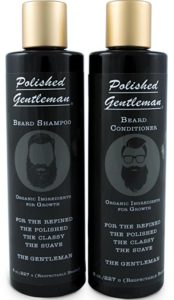 Give your beard a good care with organic beard oil & conditioner!
If you are tired of using various types of beard groomming products like conditioner, oil or beard shaper polished gentleman is the one sole solution for you. This combination of shampoo and conditioner helps to maintain a healthy beard with a complete perfection.
Key Ingredients
– Tea Tree Oil (antibacterial, antifungal, and antiviral properties) works against dandruff, warts, itching, and acne.
– Argan Oil, an incredibly rich in vitamins A and E, fatty acids, antioxidants, helps to moisture beard and encourage cell regeneration
– Raw Manuka Honey, Eucalyptus Oil, Biotin, Rosemary Oil etc.
100% natural formula to deliver all-day moisture to the facial skin, beard and hair!
The key ingredients of this beard oil consist of Jamaican Black Argan Oil, Castor Oil, Coconut Oil, and Jojoba Oil which collectively deliver whole day moisture to hair, beard, and skin. It can also be utilized as a pre-shave oil that helps you to prevent any kind of skin irritation occurred from shaving.
This lightly scented beard oil offers you fuller, thicker, and healthier facial hair while offering a moisturized beard throughout the day.
Key Ingredients
– Sunny Isle Jamaican Black Castor Oil
– Extra Virgin Coconut Oil, and other organic essential oils for scent
– Ricinus Communis vitis vinifera l. seed oil Cocos Nucifera Fragrance
A few minutes massage of 6-8 drops of this formula is sufficient to deeply moisturize and penetrate the hair follicles.
and-225x300.jpg" alt="Kirkland Minoxidil" width="225″ height="300″ />
#1 dermatologist recommended hair growth active ingredient!
Minoxidil perfectly suits men who have a general thinning hair on the top of their scalp. It fights back male pattern baldness and suitable for both head and beard.
Key Ingredients
– An active ingredient is 5% Minoxidil (nourishes the hair follicle to initiate hair growth process)
It generally takes 2-4 months to exactly showing its results. And, it has to be applied twice daily to get the best out of it.
BOTTOMLINE
Just don't let rough patches & itching change your mindset and shave the beard off. Always invest in good quality beard tools such as comb or brush to detangle beard hair; beard oil, balm, and shampoo to keep them healthy & clean.
You can totally rely on the above-mentioned simple rules and stick to them until you get what you want. You will be definitely be amazed to see the end result. Facial hair is natural and you must do something memorable with them. Carve your own beard design and experience the pleasure of running your hand over the stylish beard. Do not forget to share your wonderful experience with us. Beardcareshop.com always loves to hear your valuable thoughts and reviews.