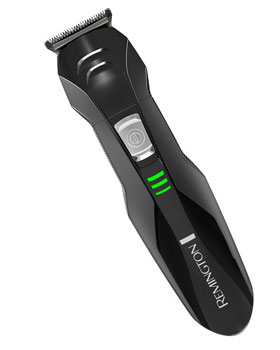 We tested Remington's bestseller in the cordless trimmer range, the model PG6025. We already tested several corded models from this well-known brand so we were curious if their most wanted cordless product will meet our expectations. It certainly has plenty to offer as the grooming kit comes with all kinds of goodies that put a smile on our faces from the first moment when we started the unboxing. We have to say that we already saw the product pictures, however, the trimmer looks even better in person. So do the functions match the good looks? Let's find out.
Features
We have to commend Remington for designing and making one of the nicest looking hair trimmers we've encountered in our testing. You really have to see it in person to fully appreciate how good this thing looks. That LED charge level indicator looks very nice on the unit and makes it look like it's from the future. The trimmer itself is compact in size and feels great in the hand. There are recesses on each side which make great grip areas and ease the handling during trimming sessions.
The whole kit is generous when it comes to accessories and there are 8 included attachments and even a small storage bag for carrying the device and the accessories with you. The attachments are full-size trimmer, foil shaver, nose, ear and detail trimmer and a hair clipper comb. The comb also comes with 8 different length settings and those allow adjustments in 2 mm increments.
The lowest length available is 2 mm and it can be adjusted for up to 16 mm of length. Also included are three beard and stubble combs. The steel blades on this beard trimmer are made of surgical steel and they are of the self-sharpening kind which guarantees longer endurance and more durability. This is one the best feature rich package currently available. We were pleasantly surprised how many goodies you can get for around 20 US dollar price tag.
Remington did well when deciding to ditch the cord on the PG6025 model. The included battery allowed us to use it for up to 60 minutes. Most of the users will rarely drain their unit during brief hair trimming or styling sessions. The use of lithium-ion battery allows for such long running times. It takes around 4 hours get the battery back to the 100 percent level.  The trimmer head is full-size so it covers a good amount of skin surface area. The motor is powerful enough to drive the blades for nice and even cuts and trim and this allows some quick styling and trimming.
Downsides
Based on our experience there will be some need for multiple passes with this trimmer if your beard is thicker and denser in some areas. It seems the motor struggles when it comes to trimming stubble area too. Also for those of you who want a near skin trimming, we must warn you that the stainless-steel head gets too warm and it will irritate your skin.
Conclusion
This Remington model presents a decent choice for those who are looking to buy a cordless model with a good feature set and a great battery endurance. The included 2-year warranty from the manufacturer sweetens the deal and makes this a very tempting hair grooming kit.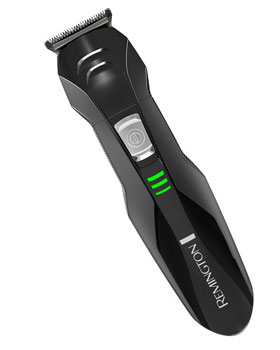 PROS
Great looks and a quality casing
Lightweight with great ergonomics
Comes with plenty of accessories included
Self-sharpening stainless-steel blades
Works on 110 V – 240 V power sources
Great battery life with fast charging time
Cons
Blade head gets hot during longer use
What to Look for When Choosing Cordless Trimmer
Before deciding to buy your new cordless facial hair grooming device there are certain things that you should avoid. This guide will save you the headaches from making the wrong choice.
Choose the models with good battery endurance and reasonable charging times. That's right. You do not want to buy trimmers that do not last long without power and at the same time need more than 10 hours to recharge the battery back to 100 percent. Choose models which can be recharged and used at the same time. They will save you from frustration each time you might forget to recharge it after use. Avoid models that lose power in the combined recharge/use mode.
Because you will be using it most of the time of the cord, make sure that the model you've chosen has enough power.
Choosing a device with a powerful motor will ensure that you get a perfect trim since most of the complaints about the cordless hair and beard trimmers come from people who used models with weaker motors which are more energy efficient and designed for a longer battery life.
With the recent advances in the battery technology, your device doesn't need a low power motor to work efficiently.
Make sure to read users opinions too to get a good sense of their experience with the model you are interested in.
Since the cordless models perform identical as the corded ones, you will surely enjoy the added portability of your new grooming device.
Our Verdict: Which One We Liked the Most?
Our choice of the best cordless beard trimmer comes down to the Philips Norelco Beard Trimmer & Multigroomer Series 3100. During our testing, we found it to offer great quality and a tough to beat feature set at the current asking price. In our opinion, this model performed so well and completed every trimming session effortlessly that we were confused about how can such a great all-rounder product come at an affordable price.
The most surprising fact was that we underestimated Philips seeing how some of the more well-known manufacturers were among the other competing models that we tested. Their products have great features too, however, they are more expensive than the Philips model and some of them do not offer the same generous level of included equipment.
The Philips 3100 model proved to be the most popular choice among plenty of users and seeing how much overwhelmingly positive feedback they give about it – it is well deserved. The endurance and longevity scores are rated with high marks too. The self-sharpening blades are a rare feature found in such a low-price product and we commend Philips for including it as standard. This model comes highly recommended for being the best performance for the money cordless trimmer currently available.