Best Corded Beard Trimmers Reviewing For 2018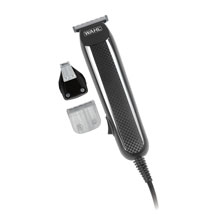 Wahl Power Pro

Stainless steel clipper blade

3-beard guide combs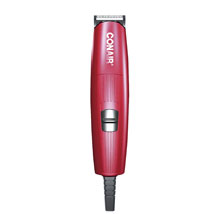 Conair Corded Beard and Mustache Trimmer

Stainless steel removable blade

2 jawline combs
Remington HC5855

Powercut blade system

No combs
Wahl Professional Peanut Clipper/Trimmer

#2068-1001 blade

4 combs
Panasonic ER-GB80-S Trimmer

45° angle stainless-steel blades

3 combs
We've compiled a list of some of the best corded beard trimmers available in case you cannot decide which one is the right one for you. We made a comprehensive and in detail guide that will give you plenty of insight of what each of these products offers and at what asking price. We reviewed top corded beard trimmer models available on the market currently and ran them through our standard reviewing process. Since we've used them on a daily basis this gave us plenty of time to get a good measure of both their pros and cons during use.
Pros and Cons of Corded Beard Trimmers
Most of the users who prefer corded beard trimmers had a bad experience with the cordless variants or were sceptical about their performance figures since they're only using battery power as an energy source. This is debunked by the fact that both kinds of trimmers perform identical and battery use is the only thing that differentiates them. However, corded models do have some other major advantages.
Having a constant power current being fed to the motor allows for a more reliable performance found in the corded trimmers. This is what most of the customers desire – a steady and a reliable trim every time. However, there are corded beard trimmer models which come with a detachable cable and yet they perform absolutely the same no matter the power source. Being able to plug it in and simply stow it away after you're done is another neat trick the corded models offer. It brings along a peace of mind.
What is not so great about them is the fact that there is a very good chance that the power cable will get in your way during your grooming sessions. Some manufacturers use tangle free cables which make life easier for tidy packers and make life worse for those who need trimming precision which is hindered by a stiff power cord. Most of the users live with this and ignore it. Others finally give up after plenty of annoying interruptions of their trimming and they simply go out and buy cordless models.
Everyone deciding between corded and cordless trimmers should also reconsider the fact that they will be limited to use them in a space where the nearest power outlet is. If you want complete movement freedom than you can rest assured that the corded models are not the best choice for your beard grooming requirements. If you do not care about precision trimming and styling with more movement freedom then they're the right choice for you.
What to Look for When Choosing Corded Trimmer
Before deciding and buying the corded trimmer of your definitive choice there are some important things to consider first. Let's assume that you do not need the freedom and the wider range of movement the cordless models can offer. You are also not bothered by the fact that you will be limited by the need to use your trimmer in a place where your power outlets are. Alright then, you've made a choice towards reliable performance and no battery charge level anxiety. Great. So, here is what you need to pay attention to before buying your trimmer.
Make sure that you get the best value corded trimmer kit for your money
This means – choose the grooming kit which includes plenty of trimming and cutting accessories alongside the device. Having multiple choices of guiding combs makes your styling options wider. As for the beard trimmer, itself, it is best that your desired model includes plenty of adjustable trimming positions. Ensure that it comes from a reliable manufacturer brand which has a good reputation. There are plenty to choose from. The longer the guarantee that comes included with the product and accessories – the better.
In the end – be sure to also read opinions from other users as they will give you a good insight into some details that you might have missed.
Our Verdict: Which One We Liked The Most?
After doing some extensive testing and living with all these fine corded beard trimmers, our choice for the best one goes to the Wahl Professional Peanut clipper/trimmer.
Our staff was equally impressed by the build quality as well as with the great performance this little device packs. It offers most of the features that some of the more expensive models have while also including accessories not found even at the higher price range. Using it was a pleasure and there were no uncomfortable experiences during our testing. It simply glided across the skin surface and removed hair with equal precision and exact trim no matter the length or thickness of the hairs. The little trimmer packs a powerful motor which is paired with some extremely sharp blades that make every grooming session an easy affair.
Do note that this trimmer isn't perfect and the only thing that prevents it to be a complete product may be the medium loudness noise it makes. To some, this won't be much of an issue but those who prefer quieter grooming sessions may want to look elsewhere.
If you manage to get over that small nitpick, you will own one of the best beard trimmers available on the market and at a very affordable price tag.
Best Cordless Beard Trimmer 2018 – New Product Reviews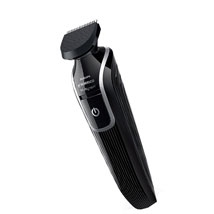 Philips Norelco Series 3100

Chromium steel self-sharpening blades

35 minutes of cordless use
Remington PG6025 All-in-1 Trimmer

Self-sharpening, surgical steel blades

50 minutes of cordless runtime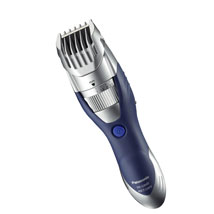 Panasonic ER-GB40-S

45° angle stainless-steel blades

19 precision settings
Philips Norelco Series 7200

Self-sharpening steel blades

80 minutes of cordless use
Wahl Cord/Cordless Trimmer #9918-6171

High-carbon precision-ground steel blades

cordless or plugged into charger
We continue to review some of the best cordless and corded beard trimmer models available on the market, as well as future models pre-release, and we've ran them through our standard reviewing process. Since we've used them on a daily basis this gave us plenty of time to get a good measure of both their pros and cons.
Pros and Cons of Cordless Beard Trimmers
It all comes down to your habits when choosing whether you require portability of a cordless or the practicality of the corded beard trimmers. Say you need a quick trim while you're out or perhaps you like to carry your grooming kit with you at all times when out of the house. Then the cordless variants are the best choice for you. They allow almost identical power spec as their corded counterparts and give more freedom of movement when you need precise detailing work done on your facial hair.
Most of the cordless models come with plenty of battery endurance and they will easily last you for a decent number of shaving or trimming sessions. That is if your average grooming time is somewhere around 15 minutes. Even then, they require small amounts of time to get fully recharged so it all depends on your lifestyle and you daily routine.
The not so good side of owning a cordless beard trimmer is that you have to monitor the battery charge level if you tend not to leave it on the charging dock or cradle. It can be very frustrating to find out that the battery is empty exactly when you're in a hurry to get a quick trim. Many models offer the possibility to be attached to the charging cord to recharge the battery and be used at the same time. Some models will not provide enough power for such use and if your cordless trimmer comes with a charging dock or a cradle then you will need to leave it there constantly after you finish using it.
When it comes to the strength of the motors they are virtually the same spec as their corded counterparts. We feel that the increased freedom of movement and the added portability at the same price makes cordless beard trimmers an excellent choice.
What to Look for When Choosing Cordless Trimmer
Before deciding to buy your new cordless facial hair grooming device there are certain things that you should avoid. This guide will save you the headaches from making the wrong choice.
Choose the models with good battery endurance and reasonable charging times. That's right. You do not want to buy trimmers that do not last long without power and at the same time need more than 10 hours to recharge the battery back to 100 percent. Choose models which can be recharged and used at the same time. They will save you from frustration each time you might forget to recharge it after use. Avoid models that lose power in the combined recharge/use mode.
Because you will be using it most of the time of the cord, make sure that the model you've chosen has enough power.
Choosing a device with a powerful motor will ensure that you get a perfect trim since most of the complaints about the cordless hair and beard trimmers come from people who used models with weaker motors which are more energy efficient and designed for a longer battery life.
With the recent advances in the battery technology, your device doesn't need a low power motor to work efficiently.
Make sure to read users opinions too to get a good sense of their experience with the model you are interested in.
Since the cordless models perform identical as the corded ones, you will surely enjoy the added portability of your new grooming device.