We tested one of the most sought after cordless trimmer models manufactured by Wahl company. It is currently one of the bestselling grooming devices on the market. We just had to see for ourselves why that is so. The Wahl model no. 9918-6171 can be found at an attractive price of around 25 USD and it comes with many attachments included in the package.
Those many attachments we've mentioned include a stubble guide, medium – 1/8 inch, full-guide – 3/16 inch and a 6-position adjustable guide comb. Wahl even included a useful carry zip-up bag too. We have to point out that the attachment holders seem very fragile and do not instil too much confidence. We didn't manage to break them during frequent swaps however we would advise users to handle them with care. The included 3-year limited warranty gives a certain peace of mind for the durability of the included parts and accessories.
We are very pleased with its decent build quality and find the matte steel finish paint on the plastic body quite appealing and professional looking. Ergonomics are excellent thanks to fluid curves design which allows easy and a firm grip during use. The rubber for the grip feels great in the hand and prevents any accidental slips.
When it comes to cordless operation, Wahl promises up to 2 months of time between recharging. During our testing, we had no need for additional recharging after the initial first one so their claim seems to be correct. We assume that the charging time can be a bit longer since the unit offers such a good battery autonomy. We also find no reason to worry about the battery charge level since this model can operate as a corded trimmer as well. This is a big plus compared to other models we tested that have to be left to charge on a cradle.
A standout feature of this model certainly is its dual mode function enabling both cordless and corded operation. It can be used freely using only battery power and can also work as a corded trimmer while it is recharging.
The first thing we noticed when we first started our unit was the amount of noise it makes. This model is very loud. Those uncomfortable with higher volumes of noise should definitely avoid this product. We assume that the increased noise is coming from a high-powered motor. We found it to be powerful enough although the lower quality blades let it down. Multiple passes over the denser hair areas were necessary to get the clean cut or trim. The blades are sharp enough although the spacing between them is problematic. Those looking for a good stubble trim will not be pleased with this model at all.
We must say that we are very disappointed with this model made by Wahl. It is unusual to see such a low-quality product coming from a manufacturer with a reputation for making high-quality grooming devices. Overall, we were unhappy with the low performing blade head advertised as being very sharp and the extremely loud motor which is crippled with a poorly designed blade spacing.
We certainly cannot recommend this hybrid beard trimmer model and are saddened that its quality is affected by a low-price tag. To make matters worse, there are cheaper models available from different manufacturers which offer great quality and come with a bigger set of included accessories at a lower price than this model.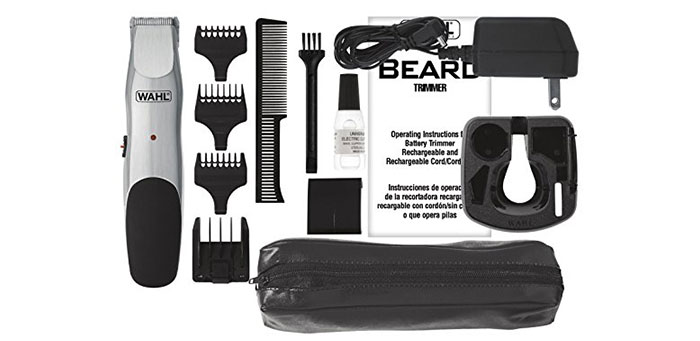 Design

91%

91%

Quality

84%

84%

Price

93%

93%
PROS
Decent build quality and great ergonomics

Nice set of included accessories

Can be used as both cordless and corded
CONS
It is intended for the US market so international buyers beware as this model is only made for 120 V power outlets

Blades get clogged with hairs easily and require to be cleaned more often

Changing comb guides requires quite a bit of force
PROS
 

AND CONS OF CORDLESS BEARD TRIMMERS
It all comes down to your habits when choosing whether you require portability of a cordless or the practicality of the corded beard trimmers. Say you need a quick trim while you're out or perhaps you like to carry your grooming kit with you at all times when out of the house. Then the cordless variants are the best choice for you. They allow almost identical power spec as their corded counterparts and give more freedom of movement when you need precise detailing work done on your facial hair.
The not so good side of owning a cordless beard trimmer is that you have to monitor the battery charge level if you tend not to leave it on the charging dock or cradle. It can be very frustrating to find out that the battery is empty exactly when you're in a hurry to get a quick trim. Many models offer the possibility to be attached to the charging cord to recharge the battery and be used at the same time. Some models will not provide enough power for such use and if your cordless trimmer comes with a charging dock or a cradle then you will need to leave it there constantly after you finish using it.
Most of the cordless models come with plenty of battery endurance and they will easily last you for a decent number of shaving or trimming sessions. That is if your average grooming time is somewhere around 15 minutes. Even then, they require small amounts of time to get fully recharged so it all depends on your lifestyle and you daily routine.
When it comes to the strength of the motors they are virtually the same spec as their corded counterparts. We feel that the increased freedom of movement and the added portability at the same price makes cordless beard trimmers an excellent choice.
WHAT TO LOOK FOR WHEN CHOOSING CORDLESS TRIMMER
Before deciding to buy your new cordless facial hair grooming device there are certain things that you should avoid. This guide will save you the headaches from making the wrong choice.
Choose the models with good battery endurance and reasonable charging times. That's right. You do not want to buy trimmers that do not last long without power and at the same time need more than 10 hours to recharge the battery back to 100 percent. Choose models which can be recharged and used at the same time. They will save you from frustration each time you might forget to recharge it after use. Avoid models that lose power in the combined recharge/use mode.
Because you will be using it most of the time of the cord, make sure that the model you've chosen has enough power.
Choosing a device with a powerful motor will ensure that you get a perfect trim since most of the complaints about the cordless hair and beard trimmers come from people who used models with weaker motors which are more energy efficient and designed for a longer battery life.
With the recent advances in the battery technology, your device doesn't need a low power motor to work efficiently.
Make sure to read users opinions too to get a good sense of their experience with the model you are interested in.
Since the cordless models perform identical as the corded ones, you will surely enjoy the added portability of your new grooming device.
OUR VERDICT: WHICH ONE WE LIKED THE MOST?
Our
choice
of
the
best
cordless
beard
trimmer
comes
down
to
the
Philips
Norelco
Multigroom
Series
3100
model
.
During
our
testing
,
we
found
it
to
offer
great
quality
and
a
tough
to
beat
feature
set
at
the
current
asking
price
.
In
our
opinion
,
this
model
performed
so
well
and
completed
every
trimming
session
effortlessly
that
we
were
confused
about
how
can
such
a
great
all
–
rounder
product
come
at
an
affordable
price
.
The
most
surprising
fact
was
that
we
underestimated
Philips
seeing
how
some
of
the
more
well
–
known
manufacturers
were
among
the
other
competing
models
that
we
tested
.
Their
products
have
great
features
too
,
however
,
they
are
more
expensive
than
the
Philips
model
and
some
of
them
do
not
offer
the
same
generous
level
of
included
equipment
.
The
Philips
3100
model
proved
to
be
the
most
popular
choice
among
plenty
of
users
and
seeing
how
much
overwhelmingly
positive
feedback
they
give
about
it
–
it
is
well
deserved
.
The
endurance
and
longevity
scores
are
rated
with
high
marks
too
.
The
self
–
sharpening
blades
are
a
rare
feature
found
in
such
a
low
–
price
product
and
we
commend
Philips
for
including
it
as
standard
.
This
model
comes
highly
recommended
for
being
the
best
performance
for
the
money
cordless
trimmer
currently
available
.
BEARDCARESHOP.COM WORKS UNDER THE AMAZON SERVICES LLC ASSOCIATES PROGRAM, AMAZON'S AFFILIATE ADVERTISING ONLINE PROGRAM WHICH OFFERS A WAY FOR SITES LIKE OURS TO EARN ADVERTISING FUNDS BY LINKING TO AMAZON. AMAZON AND THE AMAZON LOGO ARE TRADEMARKS OF AMAZON.COM, INC. OR ITS AFFILIATES.