PANASONIC ER-GB80-S BODY AND BEARD TRIMMER
This model is a true heavy hitter among all of the corded hair trimmers that we tested. Just from looking at it, you can get a good measure of how much passion and thought has gone into this precision-made tool. Panasonic's ER-GB80S is a body and hair trimmer in a class of its own. So, if money is not a problem for you and you wish to treat yourself to the best available trimmer on the market – this is definitely it.
The build quality is excellent and the device looks like it was meant to be displayed in a modern art museum. The design is amazing and allows for a comfortable use and there is a great amount of grip as it has rubber grips that ensure it stays firmly in your hand during operation. The weight is low and doesn't tire even after longer sessions in use. The body of the trimmer is completely washable and it even features a water drain that can be opened to allow easier maintenance and cleaning of the blades. The model we tested with an about 90 USD price tag comes with 3 comb attachments and a precision trimmer included.
The features this machine offers are quite worth the asking price. There are whopping 39 available clipper and trimmer adjustable settings to choose from. It comes with the wide head with blades that are angled at 45 degrees in order to allow for a one pass clean shave which also makes it a sensitive skin friendly product. The lowest length of hair the blades can cut goes down to 0.5 mm and up to a max of 20 mm. We can tell you right now from our time with this trimmer that there was no discomfort during use and no hair pulling. One pass and the hair was perfectly trimmed. No matter the thickness or density. Amazing stuff.
The best feature of this great hair trimmer is the removable cord which transforms it into a cordless tool. The inbuilt rechargeable battery will offer up to 50 minutes of cordless mode and when it's empty it can be recharged in about an hour. Naturally, it can still be used with the cord attached while the battery is charging. This makes it the best multipurpose product for everyone wanting to get the best use from both corded and cordless mode.
We didn't appreciate the fact that this trimmer works only on an 110V current so it is limiting its use for those who are travelling a lot. This goes against the portability advantages the cordless trimmers offer. Given the great feature set for the price, we went through a lot of effort of obtaining this model. We would point the higher price tag as another disadvantage yet seeing how wanted this product is, the asking price seems to be of no importance to buyers.
This model offered a touch of class to our hair trimming experience. The Japanese manufacturer Panasonic made great design decisions and made one of the best hair grooming device available today. While we feel that the price may be too high to some of the potential buyers we have to say that this hair trimmer is absolutely worth it. The superb build quality and the premium feel of the device in your hand separates it from the rest of the competition. Also, the freedom to unplug it and take it with you for a quick trim on the go is truly amazing.
During our testing, we felt like there were so many things this precision tool does right and it really has zero wrongs if you can get over the higher price tag. We feel that most of the people buy hair and beard trimmers that will last, so in a way, this may be the one that will be a perfect choice.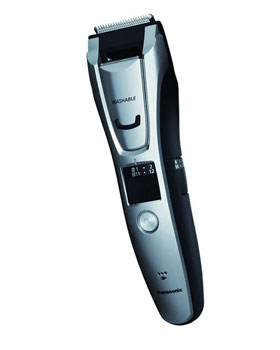 Design

100%

100%

Quality

100%

100%

Price

87%

87%
PROS
Powerful motor and great performance

Washable and easy to maintain

39 adjustable trimming settings

Universal plug which works on 110V – 240 V power outlets

Integrated NI-MH battery transforms it into a cordless trimmer
CONS
Higher price for the premium quality features

Works only on an 110 V power outlet

Limited availability at retailers
PROS AND CONS OF CORDED BEARD TRIMMERS
Most of the users who prefer corded beard trimmers had a bad experience with the cordless variants or were sceptical about their performance figures since they're only using battery power as an energy source. This is debunked by the fact that both kinds of trimmers perform identical and battery use is the only thing that differentiates them. However, corded models do have some other major advantages.
Having a constant power current being fed to the motor allows for a more reliable performance found in the corded trimmers. This is what most of the customers desire – a steady and a reliable trim every time. However, there are corded beard trimmer models which come with a detachable cable and yet they perform absolutely the same no matter the power source. Being able to plug it in and simply stow it away after you're done is another neat trick the corded models offer. It brings along a peace of mind.
What is not so great about them is the fact that there is a very good chance that the power cable will get in your way during your grooming sessions. Some manufacturers use tangle free cables which make life easier for tidy packers and make life worse for those who need trimming precision which is hindered by a stiff power cord. Most of the users live with this and ignore it. Others finally give up after plenty of annoying interruptions of their trimming and they simply go out and buy cordless models.
Everyone deciding between corded and cordless trimmers should also reconsider the fact that they will be limited to use them in a space where the nearest power outlet is. If you want complete movement freedom than you can rest assured that the corded models are not the best choice for your beard grooming requirements. If you do not care about precision trimming and styling with more movement freedom then they're the right choice for you.
OUR VERDICT: WHICH ONE WE LIKED THE MOST?
After doing some extensive testing and living with all these fine corded beard trimmers, our choice for the best one goes to the Wahl Professional Peanut clipper/trimmer.
Our staff was equally impressed by the build quality as well as with the great performance this little device packs. It offers most of the features that some of the more expensive models have while also including accessories not found even at the higher price range. Using it was a pleasure and there were no uncomfortable experiences during our testing. It simply glided across the skin surface and removed hair with equal precision and exact trim no matter the length or thickness of the hairs. The little trimmer packs a powerful motor which is paired with some extremely sharp blades that make every grooming session an easy affair.
Do note that this trimmer isn't perfect and the only thing that prevents it to be a complete product may be the medium loudness noise it makes. To some, this won't be much of an issue but those who prefer quieter grooming sessions may want to look elsewhere.
If you manage to get over that small nitpick, you will own one of the best beard trimmers available on the market and at a very affordable price tag.