WAHL CORDED BEARD TRIMMER – POWER PRO GROOMING KIT
Wahl is one of the oldest manufacturers of professional and home hair grooming products on the market. Wahl is one of the leading worldwide hair product manufacturers with good quality standards available at an affordable price. There is a good chance that your barber uses some of the Wahl's hair trimmers.
The Wahl Power Pro grooming kit no. 9686 is one of the first models that we tested extensively. Read on to find out how it performed during our time with it.
Wahl's Power Pro all in one grooming kit is currently one of the most wanted corded clippers on the market so we were curious as to how it would perform given its very attractive low price and a nice feature set. From the moment we opened the retail package we were pleasantly surprised with the amount of equipment that comes included.
The whole kit comes with one Power Pro model no. 9686 hair trimmer, a single stainless steel blade, detail trimmer, beard comb, cleaning brush, blade oil, storage case and an instruction manual available in English and Spanish language. There is one stubble, one medium and a full beard guide comb included. Users have a choice of 8 available clipper guide combs and they come in the range of 1/8 for the smallest up to 1 inch for the biggest comb guide in size.
These heavy duty corded trimmers come with stainless steel blades and the manufacturer specifies that they are made to last longer and stay sharp even with extensive use. The cord is long and doesn't get tangled during use so it will provide plenty of movement range during hair trimming or beard grooming.
Seeing how the Power Pro clipper comes with 17 trimming length positions – it will come in handy for both hair and beard detailing. This provides plenty of freedom when it comes to different hairstyles users would want to try out.
Its compact size and streamlined body make handling the clipper a pleasure and we experienced no slips or balance issue when we were using it on a daily basis.
When it comes to noise during operation we can say that it gets loud although loudness never reaches intolerable levels. Changing guide combs can be a bit difficult since the locking mechanism is sturdier and it is comforting to know that they come with 5-year warranty period in case users manage to break them. Although we can't see that happening as they do not seem fragile at all.
Overall, we were satisfied how Wahl's Power Pro grooming kit performed during the time we used it. It was great for daily beard trimming and detailing. It offers plenty of functionality for those who intend to use it for keeping their facial hair length and style in check.
Its small size is great for fine movements during detailing process where different angles of hand positions are necessary. Overall a top quality product at a decent price.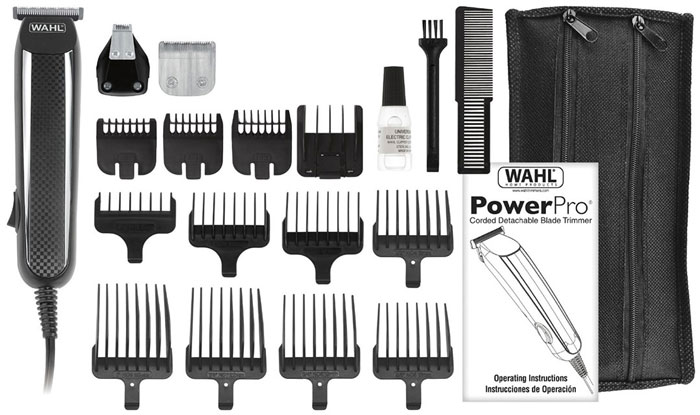 Design

89%

89%

Quality

89%

89%

Price

100%

100%
PROS
Small and sturdy hair/beard trimmer that sits well in the hand at all times
Comes with enough additional comb guides and all the necessary equipment
17 trimming positions available
Durable stainless steel blades that will stay sharp and last for a long time
Powerful and not too noisy during use
Affordable and can be found online for around 30 US dollars
CONS
It is intended for the US market so international buyers beware as this model is only made for 120 V power outlets
Blades get clogged with hairs easily and require to be cleaned more often
Changing comb guides requires quite a bit of force
WHAT TO LOOK FOR WHEN CHOOSING CORDED TRIMMER
Before deciding and buying the corded trimmer of your definitive choice there are some important things to consider first. Let's assume that you do not need the freedom and the wider range of movement the cordless models can offer. You are also not bothered by the fact that you will be limited by the need to use your trimmer in a place where your power outlets are. Alright then, you've made a choice towards reliable performance and no battery charge level anxiety. Great. So, here is what you need to pay attention to before buying your trimmer.
Make sure that you get the best value corded trimmer kit for your money
This means – choose the grooming kit which includes plenty of trimming and cutting accessories alongside the device. Having multiple choices of guiding combs makes your styling options wider. As for the beard trimmer, itself, it is best that your desired model includes plenty of adjustable trimming positions. Ensure that it comes from a reliable manufacturer brand which has a good reputation. There are plenty to choose from. The longer the guarantee that comes included with the product and accessories – the better.
In the end – be sure to also read opinions from other users as they will give you a good insight into some details that you might have missed.
BEARDCARESHOP.COM WORKS UNDER THE AMAZON SERVICES LLC ASSOCIATES PROGRAM, AMAZON'S AFFILIATE ADVERTISING ONLINE PROGRAM WHICH OFFERS A WAY FOR SITES LIKE OURS TO EARN ADVERTISING FUNDS BY LINKING TO AMAZON. AMAZON AND THE AMAZON LOGO ARE TRADEMARKS OF AMAZON.COM, INC. OR ITS AFFILIATES.