Best Nose Hair Trimmer
We all have nose hair and they save our lungs from various dust particles. But for some, they are quite distressing as they contribute to spoiling the facial look instead of beautifying it. Plucking a nose hair is really not a great idea as it can leave skin irritation or rashes behind on the skin surface. Thus, instead of plucking one should keep a habit of trimming them.
With every passing year of our life, the growth of hair in certain areas of the skin becomes more visible and disturbing. Thus, it is always required to trim them every then and now. And, who doesn't want to have well-groomed hair? Whether it is about a beard, moustache or any other facial hair i.e. eyebrows, sideburns, or nose each one needs to be trimmed.
Now the question arises how do we get rid of these unwanted hair growing out from our nostrils? In the older ages, tweezers and scissors were used to do the needful but they seem to be painful and risky thus needs to stop.
With the technical advancements, trimmers came into an existence with a lesser risk involved. A variety of trimmers is available in the market to serve your needs. But we should not follow this race blindly and choose whatever a company is selling.
A few things should be kept in mind prior to purchasing a nose trimmer:
Quality: Always choose a high-quality product which can last longer.
Versatility: You should go for a versatile product which can also be used for other grooming purposes like hair of ears or beard.
And, an affordable product which should not go over your budget.
Read on to find out detailed information about some of the popular models of hair trimmers available in the market:
High-quality ear, nose and eyebrow trimmer (with battery included)
If you are considering the versatility of your trimmer, it is the best choice as it not only trims nose hair effectively but trims eyebrows, sideburns, neck hair, and facial hair too. But primarily it is designed to clean ears and nose hair only.
Advantages
The Philips Norelco 5100 is very comfortable and makes it easier to reach the difficult spots in your nose and ear. This device works in a whisking motion and does the clean-up job with a dual cut technology. It is quite convenient, fast, and powerful. Just by fixing the head of the unit and circling it around the area to be trimmed, you are done with the Norelco nose trimmer 5100.
Sharp chromium steel is used to make the blade of Philips Norelco 5100 and it is protected by skin guard which makes sure that there is no damage like cuts occur to your skin. This unit consists of a single blade which is powered by a motor, which makes it possible to get closer to the skin as compared to other rotary blades.
'Lithium AA' battery is used to run this device, which works for almost 100 minutes before replacement. This battery life is above average if compared to others.
Features:
With the use of Norelco Nose Trimmer, grooming and styling of sideburns and eyebrows have become easier. The tool consists of two different eyebrow combs for clean and tidy looks (3 mm is used for short eyebrows and for longer eyebrows 5 mm is used).
The flat precision trimming head and detailing comb is ideal for slight clean up and touch ups of neck, sideburns and other areas.
DualCut performance without irritation
The great rubberised grip of this device prevents it from slipping and its removable heads make it different from the other trimmers available in the market.
Simple cleanup with Easy maintenance
Specifications of the Philips Norelco NT5175/49 Nose Trimmer 5100:
Dimensions: 2×1×6.5 inches
Weight: 4.8 ounces
Attachment: Trimming head, two eyebrow combs, flat combs
Dry/ Wet: Yes (Although the heads are washable but do not submerge fully)
Warranty: Two years
Power: One AA lithium battery
This trimmer is designed to offer you an experience of advanced trimming with no pulling and protect your skin from the blades.
Advantages
Philips Norelco Nose Trimmer 1500 trims nose, eyebrow, and ear hair without any difficulty. With this product, you can stay assured of the fact that there will be no cuts, pulling and nicks due to its unique design. It comes with an eyebrow guard for quick and even trims.
You just need to click on the eyebrow guard and you will get great results in no time. It is completely washable so cleaning becomes rather convenient.
Features:
Advanced trimming system guarantees no pulling
Easy cleaning and care
AA battery
Comes with a warranty of 2 years
Even and quick results with eyebrow guard
A global #1 selling nose Trimmer which is built to last
Specifications of Philips Norelco Nose Trimmer 1500, NT 1500/49
Dimensions: 4.1 x 10 x 21 cm
1 CR2 batteries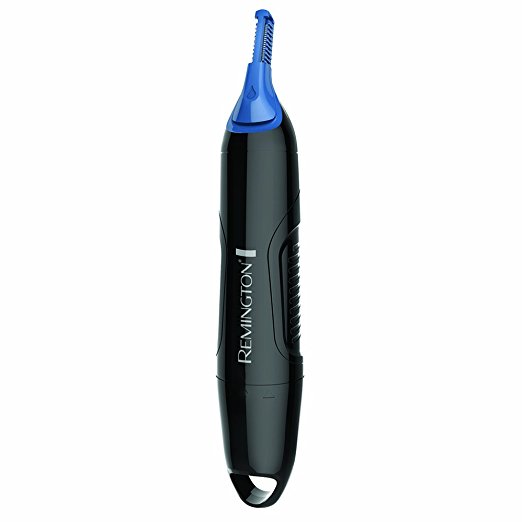 Over the past year, Remington has actively contributed to the personal grooming of one. With its NE3250 Nose Ear Brow Trimmer, it offers a trimmer which looks like an electric toothbrush, but on the real grounds has a trimmer comb without any cord.
Advantages:
The Remington nose, ear, and brow trimmer is an easiest and fastest way to conform your grooming needs. The comfort Trim technology of this battery operated model comes with bi-directional dual blades (the rotary trimmer and the eyebrow trimming comb) which provide comfort and versatility to trim the facial hair, along with the washout system that helps to clean the product easily.
Features:
Unique wash out system easily flushes out the hair from the blade
Unique Design Features Bi-Directional Blades to Comfortably Remove Hair
Ease of use on both wet and dry areas of the body
Dual trimming heads can comfortably remove unwanted hair
A hang loop provides easy shower storage
The eyebrow comb maintains and trims the eyebrow hair evenly
Rotary head attachment works to remove ear and nose hair
1 AA battery is used for this device
A comfortable non-slippery grip
Specifications of Remington NE3250 Nose Ear Brow Trimmer
Product Dimensions: 3 x 17.8 x 6.6 cm ; 113 g
2-year warranty
1 AA batteries required
This product offers an accurate and pain-free precision while trimming your hair. It comes with a water-resistant design which allows you to use it in the shower as well.
Advantages:
ToiletTree products always set out to make difference among other grooming products available in the market. Instead of a cheap plastic body, Professional Water Resistant Heavy Duty Steel Nose Hair Trimmer with LED Light comes with a high-quality steel casing.
The water-resistant feature of this design helps this trimmer to be used in the shower also. The bright LED light is a big support for finding that hidden hair which cannot be easily seen. With the help of the rotary cutting system, all the stray hair including the hair of the nose, beard, ears, and eyebrows can be trimmed. The stainless steel high-quality blade does not give a painful experience but provides smooth, painless and a clean cut.
Features
smooth, clean and painless trimming
warranty of lifetime replacement
heavy duty, high-quality steel design with LED lights
Disadvantages
There are issues with the battery and on and off switch in this model.
Battery has to be inserted correctly or else the unit will not work.
Another common problem with this unit is the breakage of switch so it has to be handled carefully.
The head has to be locked in properly otherwise there is a possibility of blade ejecting out of the unit and it will stop working.
This is an ideal trimmer for the businessmen. It can be used in dry or wet areas with LED light. It is battery operated and waterproof with stainless steel rotation blade.
Features
This convenient nose hair trimmer trims anywhere easily and comfortably, be it shower or dry areas of side burns or eyebrows anytime.
The clean and safe stainless steel blades are hypoallergenic and are carved in such a way that they do not pull hair or irritate the skin.
The smart micro vacuum system in this trimmer powerfully cleans and whisks away clipped facial hair simultaneously as you trim.
Accidental injuries can be avoided with the use of LED light.
Two-piece trimmers are used for styling ear, nose, side burns, and ears.
The high efficiency of this stainless steel tool can reach up to 360 degree inside the nose to pull nose hair.
Because of the mute motor in this tool, which is below 50 DB there is less noise and it can be comfortably used.
If this electric machinery is used for 5 minutes at a time then it can be operated for 6 months with 1AA battery and save power.
The box contains
1× Detail Trimmer Head
1× User Manual
1× AA Battery
1 × Nose and Ear Trimmer Head
While coming to an end, we would state that the above-mentioned information is correct and useful in every sense and definitely turn out to be of great help for you. We always stretch out our research efforts to bring the best solutions for your grooming needs.
Book one for yourself now on Beardcareshop.com